My 3rd studio album, "Global Warning" is out on the 1st of December featuring numerous great musicians: Derek Sherinian-keyboards (ex. Dream Theater, Alice Cooper, Black Country Communion, Whitesnake, etc.), Anthony Crawford – bass guitar (Witherfall, Chon, Justin Timberlake, Erykah Badu, Virgil Donati band, etc.), Marius Pop – guitar, Mike Gotthard – guitar, Zsolt Kaltenecker – keyboards (Special Providence), two members of Anima Sound System (Szabolcs Prieger & Tibba Kovats) and further great bass guitar players: Peter Erdei, Peter Papesch, Martin Gudics.
Contains 12 songs and 2 bonus tracks. Running time: 73 mins.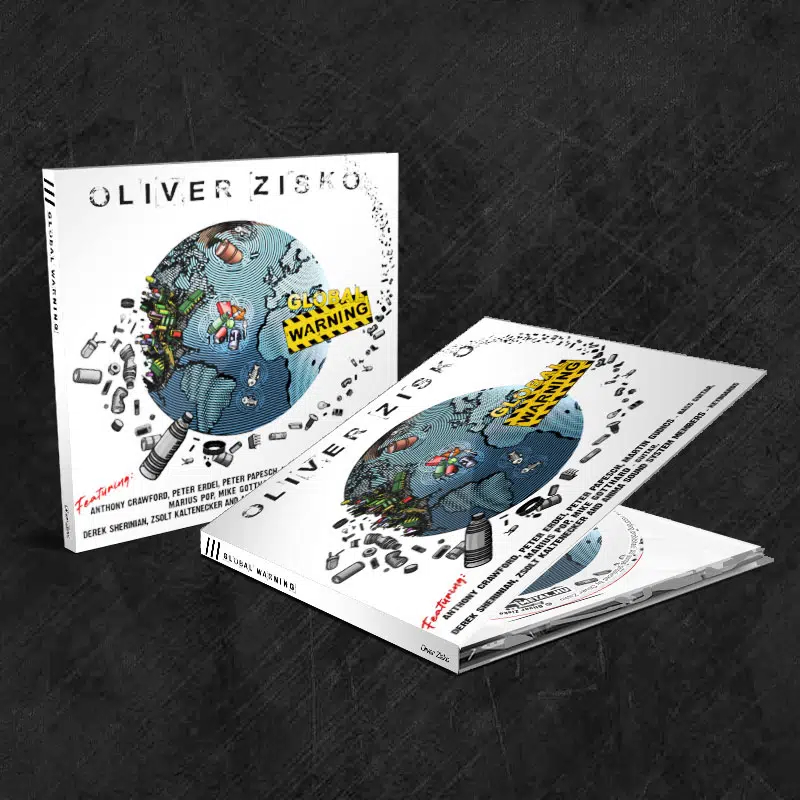 Here you can find the scheduled and released music videos of the album:
4th of November we come up with 2 new videos before the release of the "Global Warning" album. "Controlled Substance" feat. Martin Gudics on the bass and a drum and bass tune: "Hoax". This song is partly inspired by Stravinsky's Rite of Spring. Video premieres:
Soon, after the album's release, we'll share further videos such as the song called "Renewal" featuring Anima Sound System members. Check back later.
You can read some articles and interviews regarding the previous music videos as well as further information about the album under the INTERVIEWS/ARTICLES menu.
The electronic-sounding song "Plastic" is somewhat influenced by the breakbeat style. My special guest in this song is Zsolt Kaltenecker, keyboarder of the progressive band Special Providence. Zsolt is a real beast on his instrument and like every song on the album, this one has a special message too. I portrayed one of the issues of our age, namely the toxicity of plastics in nature and the human body. I borrowed the voice of Dr. Scott Belcher, a great researcher/scientist. Humanity would need many scientists like him nowadays….
In the song "Origin," my gifted special guests are Mike Gotthard on the guitar and Péter Papesch on the bass. Both guys played in some of my formerly released songs. The style of this song, which was inspired by ancient Native Americans and other indigenous tribes, is a mixture of drum 'n' bass, fusion, and world music. We – members of our modern civilization – must urgently reconnect with Mother Nature as these tribes continue to do or did in the past. The signs of urgency are increasing day by day. A popular quote at the end of the clip tells everything: "I do not think the measure of a civilization is how tall its buildings of concrete are but rather how well its people have learned to relate to their environment and fellow man." – Sun Bear (Chippewa tribe)
---
Formerly released video clips from the album "Global Warning:"
Two of my previously released albums. You can download them as files or order them in CD format from the AUDIO DOWNLOAD/MERCH menu.
---
My scorebook which includes an audio CD (Hungarian edition) and drumming teaching resource in DVD format (in English) is also available amongst other items from the MERCH menu.
Some of the albums which I have recorded for various bands:
On Sear Bliss' "Forsaken Symphony" album I was a keyboarder & songwriter.