Check out the playlist of the Global Warning album: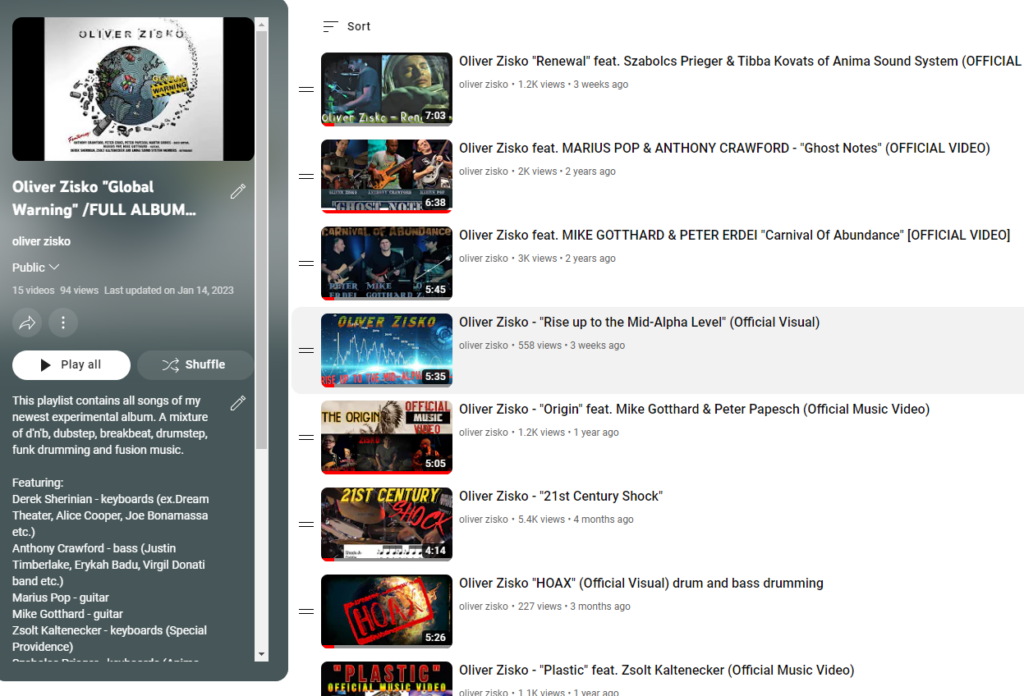 Here you can find the latest music videos separately. I suggest you visit my Youtube video channel for earlier releases.
"Rise up to the Mid-Alpha Level" is a meditation on the frequency of the Earth's resonance. The video contains the concert visual of the song:
"Renewal" is a drum and bass / dubstep song with acoustic drumming featuring two members of the Anima Sound System band: Szabolcs Prieger & Tibba Kovats:
4th of November we came up with new videos before the release of the "Global Warning" album. "Controlled Substance" feat. Martin Gudics on the bass
….and a drum and bass tune: "Hoax". This song is partly inspired by Stravinsky's Rite of Spring:
We recorded the song entitled "Travelin'" in 2021. In this electronic-sounding prog song, I was fortunate enough to play in an ecstatic lineup; Marius Pop (on the guitar), Anthony Crawford (on the bass). Even though the three of us previously released the song "Ghost Notes," now we have a special guest, Derek Sherinian, the well-known, former keyboarder of the band Dream Theater who is also acclaimed for his solo projects and other sessions with Alice Cooper, Joe Bonamassa, KISS, etc. I really love the style of these guys who are deservedly iconic figures of the modern prog music scene.
The electronic-sounding song "Plastic" is somewhat influenced by the breakbeat style. My special guest in this song is Zsolt Kaltenecker, keyboarder of the progressive band Special Providence. Zsolt is a real beast on his instrument and like every song on the album, this one has a special message too. I portrayed one of the issues of our age, namely the toxicity of plastics in nature and the human body. I borrowed the voice of Dr. Scott Belcher, a great researcher/scientist. Humanity would need many scientists like him nowadays….
In the song "Origin," my gifted special guests are Mike Gotthard on the guitar and Péter Papesch on the bass. Both guys played in some of my formerly released songs. The style of this song, which was inspired by ancient Native Americans and other indigenous tribes, is a mixture of drum 'n' bass, fusion, and world music. We – members of our modern civilization – must urgently reconnect with Mother Nature as these tribes continue to do or did in the past. The signs of urgency are increasing day by day. A popular quote at the end of the clip tells everything: "I do not think the measure of a civilization is how tall its buildings of concrete are but rather how well its people have learned to relate to their environment and fellow man." – Sun Bear (Chippewa tribe)
---
You can read some articles and interviews regarding the latest album under the INTERVIEWS/ARTICLES menu.
Click on the picture and visit my YouTube channel for the latest and earlier uploads… and don't forget to push the sub-button !!